This video shows how to do double-faced tablet weaving. It's a harder to learn technique, but very versatile once you've mastered it.
You may want to click on the closed caption box if the sound is poor. I've done a full set of subtitles.
I wasn't clear enough in the video about the card-turning sequence. Each 'square' on your chart requires two turns of the cards in the SAME direction - with a pass of the shuttle for each turn. Thus, there is an ongoing 2 forward, 2 backwards turning sequence throughout the weaving. This has the advantage of greatly reducing the amount of twist building up in the warp threads.
Here's my new shuttle that Alex Holden made for me. I thought it was very good value for £10 including postage. (I'm happy to supply his contact details if you want your own) You may notice in the video that I've adapted my weaving style, now I have shuttle and beater combined in one.
Here's the pattern I used for my space invaders hat band; (the bottom two on the left were the ones I chose, but you could use any combination)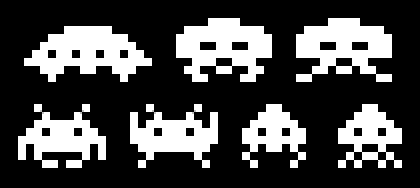 and here's how it came out:
Single threaded version above - alternately threaded version below
I'm very pleased with the result.